Welcome to rental of inflatable boats and rafts.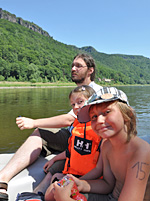 Come with us beyond the working days and meet the unique landscape of the canyon Labe Elbe levels. The water here is calm and suitable for absolute beginners canoeing, families with children, but we hope that even experienced watermen appreciate this river. In good condition, you can also try water now almost forgotten the flow of the river bottom Ploučnice.
Water Agency beyond - go away "can all clients that water boating is great fun and adventure.